Welcome to Rising Sun Cattle Co., LLC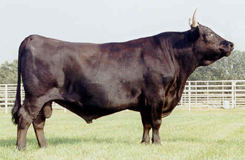 The Rising Sun Cattle Company has premium full blood wagyu cattle for sale and is your source of premium wagyu genetics to enhance your herd.
We are committed to helping others enjoy this special, gentle breed of cattle through our Seed Stock Program. This is accomplished by raising exceptional, premium wagyu cattle and only selling breeding stock that meets our strict guidelines. If it isn't good enough for our breeding program, then we don't think it is good enough for yours. Contact Us about our excellent selection of wagyu bulls, heifers, calves, and embryos to enhance and bring the best of wagyu breeding to your herd.
Calves that don't meet our standards, male or female, are headed to the feedlot to join the other full blood wagyu cattle that we have raised specifically to be the best full blood wagyu beef available today. It's great knowing that raising wagyu beef makes the best steaks to ever hit the grill.
Rising Sun Cattle Co., LLC, started like many other wagyu operations, with a curiosity and fascination for a breed that seemed just a little bit special. This special nature of the wagyu genetics definitely became a reality as time went on. Despite some challenges getting the whole thing started we soon had healthy, active wagyu calves to show for our efforts.
In the western states, in the fertile valleys of central Utah is where Rising Sun wagyu cattle call home. And it is here that they grow to eventually be the herd bulls and donor females of ranches all across the United States.
Thank you for stopping by to check out the new Rising Sun Cattle website. Please check back regularly for new updates and content being developed to bring you the best in wagyu breeding.
Rising Sun Cattle is a member of the American Wagyu Association.
For more information, visit the 'Contact Us' page and ask about Rising Sun Cattle's wagyu genetics stock and all we have to offer. We are here to help.